Consumer Reports November 2020: Safer Drinking Water
Read. Shop. Buy smart.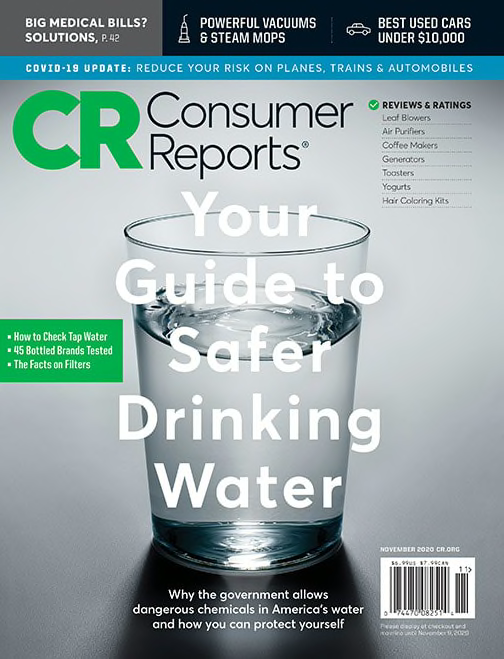 Some drinking water, including bottled water, contains per- and polyfluoroalkyl substances (PFAS). "Your Guide to Safer Drinking Water" includes tips on how consumers can limit their exposure.  Consumer Reports tested 47 bottles waters, 12 carbonated and 35 noncarbonated, for four heavy metals and 30 PFAS chemicals. Find the results in "What's Really In Your Bottled Water?"
Yogurt is widely considered a health food, containing probiotics and nutrients, although some contain added sugars. It comes in many different varieties–Greek, Icelandic, Australian, French, plant-based. Consumer Reports tested 37 dairy and vegan yogurts (vanilla-flavored only); the results are in "Healthy Yogurts That Taste Good, Too."
When we think of floor cleaners we usually think first about vacuums. There are so many varieties–uprights, sticks, robotics, handhelds, canisters–not to mention related items such as carpet cleaners and steam mops. "The Best Way To Clean That Floor" contains information on all of these varieties as well as ratings for bagged and bagless upright and canister vacuums, corded and cordless stick vacuums, and handheld vacuums.
Anyone planning to travel by plane, train, bus, car, or ship, should practice basic safety strategies–wear a mask, practice social distancing, wash hands, sanitize frequently touched surfaces. "Your COVID-19 Travel Toolkit" has tips on how to reduce the risk of travel. Tips for safer stays in hotels, motels and Airbnbs are also included.
Other topics in this issue include:
"Fix Your Mask Frustrations" 
"How Well Do At-Home Hair Coloring Kits Work?"
"How to Spot Misinformation Online" 
"Could Your Medical Bills Make You Sick?
"New Ways Carmakers Are Getting You More MPG" (includes ratings for fuel-efficient vehicles)
Ratings for SUVs and sedans
Consumer Reports magazine is available in print and online to Fauquier County Library card holders, providing access to articles, reviews and ratings on over 8,000 products and services. The library has copies of Consumer Reports dating back to 2016.
To access Consumer Reports online free from the library's website, click on the research tab and browse the alphabetical listing of databases for Consumer Reports Online.