Resources To Explore Irish Genealogy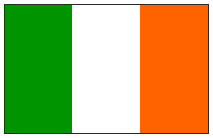 Do you have Irish ancestors? If you do, I'm sure you've heard that doing Irish genealogy is almost impossible because so many records were destroyed in Ireland's Public Records Office fire of 1922. Fortunately, although many records were destroyed, a number of records did survive, and they are worth looking into.
If you're not sure where to start with your Irish research, check out these books from the library's collection:
A Genealogist's Guide to Discovering Your Irish Ancestors by Dwight A. Radford and Kyle J. Betit
Tracing Your Irish Ancestors by John Grenham
In Search of Your British & Irish Roots by Angus Baxter
Each of these books discuss the basic records to look for: census records, church records, civil registration records, estate records and emigration records.
For Irish research, it's very important to know which county your ancestor lived in. Historically, Ireland was made up of four provinces (Connaught, Leinster, Munster and Ulster) and 32 counties. The Ancestry Library Edition database, which is available to use at any of the Fauquier County Library branches, has several gazetteers for Ireland, and an Ireland Topographical Dictionary dating from 1837. [Note: Ancestry Library Edition is not available for home use, but can be accessed at any Fauquier County Library branch.]
Usually the first place to start in genealogy research is with the census. Irish censuses were done every ten years from 1821 to 1911. Unfortunately, only the censuses for 1901 and 1911 survive. These are available, for free, on The National Archives of Ireland's website. However, there are a number of records, all available on Ancestry Library Edition, that can be used as census substitutes. One of the most valuable is Griffith's Valuation, which lists approximately one million people who occupied property in Ireland between 1847 and 1864. Another useful set of records is the Civil Registration–births and deaths were recorded from 1864-1958, and marriages from 1845-1958. Parish records are another good resource. Roman Catholic parish registers from 1655 to 1915 are also available on Ancestry Library.
Ancestry Library has a number of other databases useful for Irish genealogy research, including some Irish newspapers; records of the Royal Irish Constabulary, 1816-1921; Irish Casualties of World War I, 1914-1922; and U.K. and Ireland, Masters and Mates Certificates, 1850-1927.
Another of the library's databases, Genealogy Connect, has several full-text books on Irish genealogy including:
A History of the Irish Settlers in North America: From the Earliest Period to the Census of 1850 by Thomas D'Arcy McGee
Erin's Sons: Irish Arrivals in Atlantic Canada to 1863 by Terrence M. Punch
Ireland and Irish Emigration to the New World from 1815 to the Famine by William Forbes Adams
Ulster Sails West by William F. Marshall
A New Genealogical Atlas of Ireland by Brian Mitchell
You can access Genealogy Connect from home with your Fauquier County Library Card number.
This is just a small sampling of the Irish records still out there. Our reference librarians will be happy to get you started with these resources. The luck of the Irish be with you!
∼ Vicky, Reference Librarian, Warrenton central library
Keep up-to-date on library news and events! Subscribe to bookmarks, our monthly eNewsletter, like us on Facebook or follow us on Twitter.